WE ARE EXCITED TO PRESENT OUR FIRST CONCERT SINCE NOVEMBER 2019. WE HOPE YOU WILL PLAN TO JOIN US!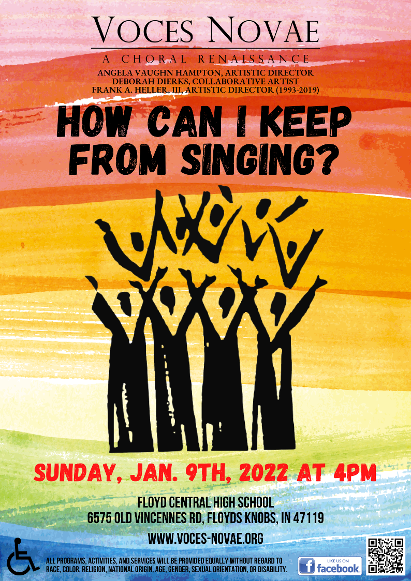 HOW CAN I KEEP FROM SINGING?
SPECIAL GROUP-RATE TICKETS AVAILABLE FOR GROUPS OF 10 OR MORE.
© 2021 Voces Novae. All Rights Reserved.
TICKET INFORMATION
TICKETS ARE AVAILABLE AT THE DOOR FOR ALL PERFORMANCES.
ONLINE TICKET PURCHASES WILL NOT BE MAILED OUT AND MUST BE PICKED UP AT THE BOX OFFICE (AT THE CONCERT LOCATION) ON THE DATE OF THE CONCERT.

TICKETS PURCHASED FOR OUR MARCH 2020 'DOUBLE TAKE' CONCERT WILL BE HONORED FOR THIS CONCERT. SIMPLY PRESENT THE TICKET FOR EXCHANGE AT OUR BOX OFFICE ON THE DAY OF THE CONCERT.